Our collaborative programmes:
With Project Director Agri.Technology Management Agency (ATMA), Yupia.
Ø Farm Schools for the progressive farmers.
Ø Front line Demonstration of Technologies.
Ø Farmer Scientist interaction Programmes.
2. With National Agri.and Rural Dev. Bank (NABARD), Itanagar -
Ø <![if !vml]>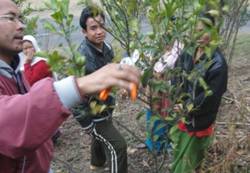 <![endif]>Tribal Dev Fund (TDF) project through Orange Orchard as cor activity with Agri- allied sectors covering 500 families in Sagalee and Upper Sher area.
Ø In collaboration with NABARD, we have promoted 12 Nos. Farmers Clubs in Papum-Pare district and 7 Clubs had established Broiler Farms which we have imparted them specialized training and providing them service delivery support at their door steps. At present, they are generating substantial income from these farms with average net profit of Rs.30,000/batch of 45 days from the sale of the birds.
3. With Sir Ratan Tata Trust (SRTT), Mumbai –
<![if !vml]>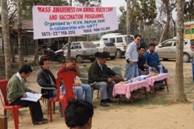 <![endif]>Community Mithun Conservation through community participation in Doimukh area.In this project, an area of 800 Hects of community forest area are fenced for community Mithun rearing benefitting 80 Mithun owners of Mani, Midpu and Chiputa village of Doimukh circle.
· With International Liv. Research Institute (ILRI), Nairobi.
Organizing of the workshops for stakeholders for the poverty reduction through Liv. Pathways in 3 (Three) districts identified in Arunachal Pradesh for different projects:
§ Kurung Kumey for community Mithun rearing
§ West Siang for Poultry Development
§ West Siang for piggery development through women Empowerment..